i found a new blog friend. she doesn't know it yet. creepy? maybe. but awesome.
sarah's 'about me' is philippians 4:12. i love that. and we're both part time admins at our churches. and she uses pinterest as outfit inspiration. i'm telling you, we're a friend match made in heaven.
i also came across her blog on her february copy cat day and what do you know but i just so happened to copy an olsen twin today. check out the link up and be inspired to use others' ideas for your outfits. it's a great way to reimagine items you've already got!
ps i finally cuffed my pants today! i've been loving this look but had yet to do it. too bad they just look like short pants in the picture. good thing cropped pants are in.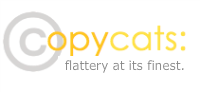 check out the link up!